Test Tubes and YouTube:
Communicating Science through Film
"I thought it was great, the audience was really engaged, and the videos were varied and interesting!  The whole thing seemed to run really well from where I was sitting, and getting a TV celeb scientist was a great move!" Dr Abi Herrmann, Medical Research Council Cambridge Stem Cell Institute
We are passionate about uniting the arts and science and as such were honoured to devise, create and hold a joint event with our clients and friends from the Gurdon Institute and Cambridge School of Art with the support of CoDE Research Institute and LENS Research Group. Test Tubes and YouTube was part of the annual University of Cambridge Science Festival and one of the community engagement events held at Anglia Ruskin University.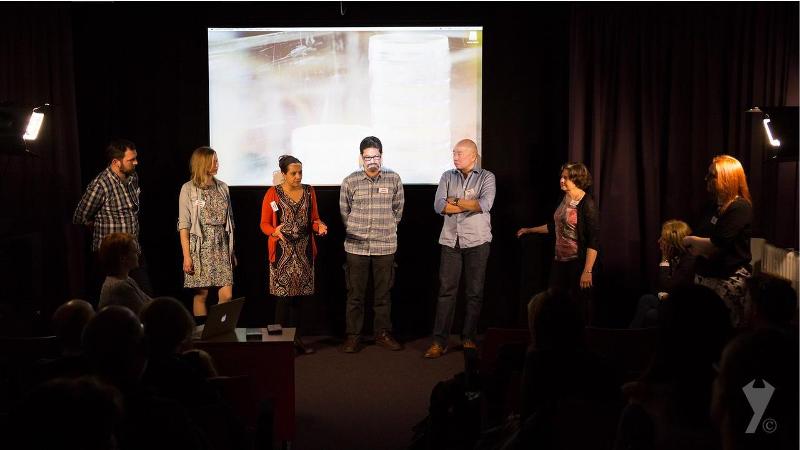 The event was held in three parts with each part showcasing different types of films communicating science immediately followed by insights from our expert panel and questions to the panellists from members of the general public who attended the event.
Part 1 showcased the films brandAnonymous created for the Gurdon Institute with panellists: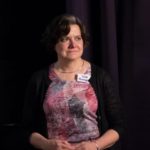 Professor Julie Ahringer is a Senior Group Leader at the Gurdon Institute. Her group investigates chromatin structure and function.  Julie pioneered genome-wide RNAi screening, carrying out the first systematic inactivation of genes in an animal by creating the widely-used C. elegans RNAi feeding library.  She is a member of EMBO, a Fellow of the Academy of Medical Sciences and she received the Francis Crick lecture prize of the Royal Society in 2004.
Reeta Varpama and Sam Holmár from brandAnonymous are both alumni from the Cambridge School of Art with a BA (Hons) degree in Film and TV Production B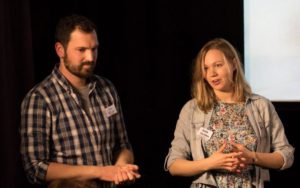 A(Hons). Reeta's experience spans both commercial and creative filmmaking with a focus and passion for directing and post-production. Reeta has worked for Channel 4 and the BBC as well as many independent films. Sam is a cinematographer and documentary filmmaker interested in visual storytelling and how film causes us to ask questions and seek answers from the world around us. Sam has worked for Channel 5 as well as Arts Council England funded productions.
Part 2 showed a short clip of The Golden Window which was a collaborative research project investigating 'reality of NICU'. Panellists for this section were: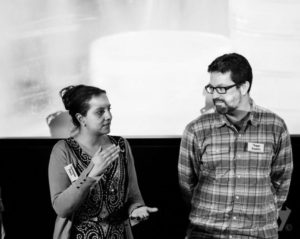 Dr Shreepali Patel Director of Cultures of the Digital Economy (CoDE) Research Institute, ARU, BAFTA award winning filmmaker and co-director of Eyeline Films, producers of the Emmy Award Winning Documentary, The English Surgeon. Her research focuses on the cross-disciplinary potential of existing and emerging audiovisual technologies and their role in transforming or informing society.  The AHRC described her last project, The Crossing, as 'pushing the boundaries of film and communication'.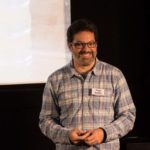 Dr Topun Austin Consultant Neonatologist at Cambridge, and Honorary Professor of Neurophotonics at University College London. He is the Director of the Evelyn Perinatal Imaging Centre (EPIC), based at the Rosie Hospital, Cambridge. His research interests are in brain development and injury in the newborn, using novel monitoring and imaging technologies. He is also involved in the development of neonatal neurocritical care, which included setting up of an award-winning regional service for the provision of cooling across the East of England.
Part 3 played a clip from a recent Horizon programme featuring panelist Dr Giles Yeo to show a mass media approach to science. Giles is originally from San Francisco, receiving his bachelor's degree in Molecular and Cell Biology from the University of California, Berkeley. He moved to the UK and became a member of Wolfson College in Cambridge in 1994 where he did his PhD studies. In 1998 he began his postdoctoral training in the Department of Clinical Biochemistry, working on the genetics of severe human obesity. Giles studies brain control of food intake and bodyweight. As a presenter for two of the BBC's Horizon programmes Giles explains body weight and our relationship to food in a charming and simple manner which is underpinned by complex science.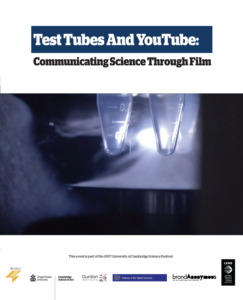 Event management, event marketing, community engagement, design, photography.