Romsey Art Festival 2015: Funki Fest
COME ALONG TO THE GLEEFUL FUNKI FEST!
A SPECTACULAR 1 DAY EVENT with,
3 THRILLING WORKSHOPS and,
1 SENSATIONAL SHOW!
We are proud to present a one day event for Anglia Ruskin University with the support of Robinson College Cambridge. Part of the Romsey Art Festival 2015, the event includes 3 workshops led by renowned artists in the music and entertainment industry.
Follow us on Twitter and keep an eye on the latest happenings on Facebook!
SATURDAY 19 SEPTEMBER 2015 – Doors open 10am
Covent Garden Drama Studio, Anglia Ruskin University

11am SING LIKE SAM SMITH – FREE! Led by Joanna Eden
British singer/songwriter Joanna Eden has performed her emotionally resonant brand of jazz all over Europe since 2000. She is also an acclaimed songwriter ("melody, mystery & bite" – Mojo Magazine) and vocal coach ("The reason I sing" – Sam Smith). BOOK NOW (limited places)

12.30pm DANCE LIKE KYLIE MINOGUE – FREE! Led by famed Seen on Screen (over 16's only)
SOS instructors work with major stars such as Jessie J, Fifth Harmony, Rhianna, Taylor Swift, Katy Perry and One Direction.
Seen on Screen provide the best dance classes and events in the UK.  As recommended by The Independent, Sunday Times Style Magazine, BuzzFeed, Grazia, Emerald Street and The Evening Standard. BOOK NOW (limited places)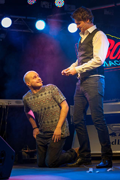 2pm ACT LIKE TOM HIDDLESTON – FREE! Led by Improv Group Kolina (over 16's only)
An award winning improv troupe from Finland will host the "act like" workshop and lead the performance at the end of the event. Featuring lead artist Roope Salminen is a celebrated rapper and entertainer who will be accompanied by fellow actor Ernest Lawson and musician Suvimarja Halmetoja. This is the troupe's first appearance in the UK. BOOK NOW (limited places)

7PM INTRODUCING AWARD WINNING ENTERTAINMENT GROUP KOLINA IN A DAZZLING IMPROV PERFORMANCE – FREE!(over 16's only)
BOOK NOW

PRESS:
What's On Cambridge Autumn 2015 (includes a sneak peek at our next event!)