Medway NHS Foundation Trust
Team Medway Branding & Promotion
Following the Keogh Review in July 2013, brandAnonymous was contacted by the newly appointed Chief Nurse at Medway Maritime to redress brand perception of the hospital and to support a recruitment drive.
Animated advert for Nursing Times job listing


As part of the changes being implemented by the new management team, the goal of the brand campaign was to attract 60 new nursing staff in key areas: acute medicine, surgery, elderly care, emergency department, oncology and neonatal intensive care. In addition, this campaign was used to boost staff morale after recent press coverage that had focused on the Keogh Review and had not publicised any of the improved practices Medway Foundation Trust had already initiated to deliver outstanding patient care.
Team Medway Brochure
[This DIGITAL pdf version the Print quality brochure is 5.1MB]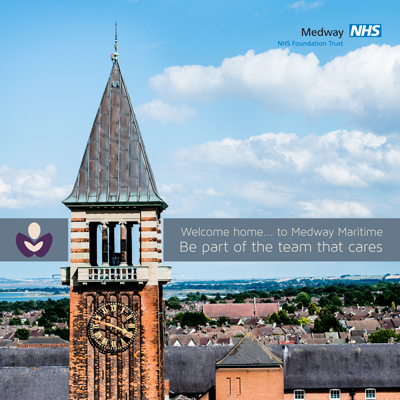 In order to promote the recent changes in management, culture and practices at the hospital, brandAnonymous first had to reveal Medway Maritme's strengths, unique selling points and brand identity. Through a series of inclusive exercises involving the staff, from focus groups, to surveys, to presentations, brandAnonymous created an overall brand for Team Medway. The strongest selling points identified through the strategy and research included outstanding lifelong learning opportunities, a great work life balance, a sense of community and state of the arts facilities for both general and specialist medecine.
Team Medway Poster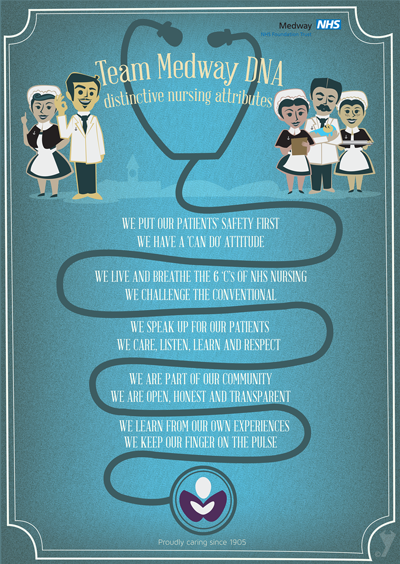 With the overall campaign strapline "Be part of the team that cares", the Trust's values "caring, respecting, listening, and learning" were incorporated into a series of promotional assets including: a Team Medway toolkit, brochure, branded promotional items, presentation pop-up display and podium, web site banner ad and e-marketing mail shot to reach 40,000 potential candidates.
Team Medway Post-It Notes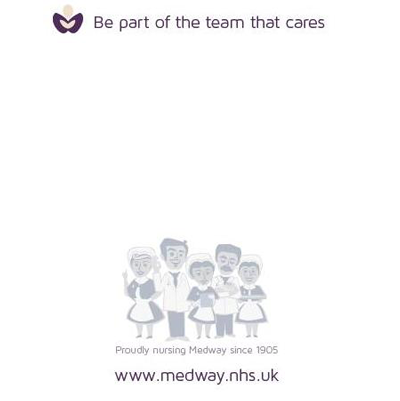 Identity Creation, Branding, Marketing Research and Strategy, Creative Direction, Production, Design, Copy Writing, Photography, Print Delivery, Digital, Illustration, Animation.