Cambridge University Hospitals
Infection Control Video
Cambridge University Hospital's Infection Control Department asked brandAnonymous to deliver a film to support an ongoing print campaign to fight infection through the washing of hands using gel and soap and water. Despite Addenbrooke's best efforts and an existing ongoing campaign, serious infections such as those involving C. difficile were present throughout the year. The hospital's end of year ceiling for C.diff cases came, in their words, "uncomfortably close" towards the end of summer.
The brief was to create a video that would complement existing collateral, yet be unique and stand alone. The target audience being all ages, young to old, and speak to patients, carers and staff. The goal was to create a video that would be visually understood in the event audio was not readily available, while conveying clear and specific instructions in an entertaining and compelling manner.
A combination of animation, poetry and live action have been used to explain the 6 steps to be carried out when washing hands and the instances when soap and water is better than gel.
The Head of Department was so happy with the result, she is planning to use the film as a motivational and educational tool throughout the hospital and to have everyone memorise the poem. We certainly have, can you?!
A4 Poster with poem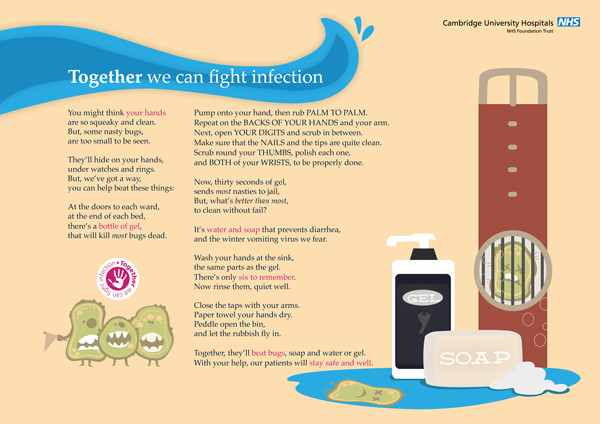 #CUHInfectionControl
Concept Development, Creative Direction, Production, Animation, Design, Copy Writing, Original Music, Post Production.